Corban University
May 26, 2020
From the Science Lab to the Soccer Field, Emanuel Montanez Shares How Corban Helped Him Grow in Christ.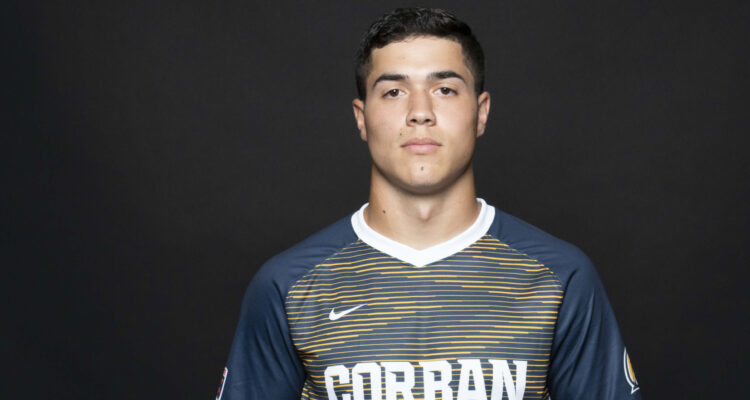 Emanuel Montanez is not an athlete only when he's on the soccer field. He's not a student only when he's in the science lab, and he's not a Christian only when he's at church. Rather, Eman realizes that these three identities coexist, shape one another, and help him understand himself and God more fully.  
After graduating with a degree in biomedical sciences in May 2020, Eman can look back at his four years at Corban and see how much he's grown—whether he was diving into Ecclesiastes in Dr. Jacobson's class, presenting his research on cataract development in mice, or performing a skilled pass to his teammate. 
One of the key lessons Eman has learned during his time at Corban was to persevere even when things got tough. For the first two years at Corban, science classes felt like a breeze, thanks to the preparation Eman had received at Renaissance High School in Meridian, Idaho. But as he reached his upper division courses, he began to wonder if he was in the right major after all.  
"In Advanced Physiology, most of the class completely bombed the first test." Eman remembers his professor, Dr. Sarah Comstock, addressing the class. "She said, 'Don't let this one test determine everything else going forward. Life goes on.'" Her encouragement helped Eman decide to continue in his major, realizing that he wasn't going to get everything perfect the first time and that failure was part of the process. 
Since that first discouraging exam, Eman has grown in competence and skill. During his senior year, Eman even assisted Dr. Comstock with research. "We were using a mice model to show that increase in the consumption of glucose led to susceptibility to cataracts," he explains.  
Part of his role included analyzing proteins using a special process called Liquid Chromatography-Mass Spectrometry. He and his lab partner, Damian, also worked on building virtual models of the proteins to demonstrate their molecular structure. 
At first, the complex research was daunting. When Dr. Comstock informed Eman and Damian that they'd be doing a poster presentation on their findings, Eman wondered if he was ready. "You've got this," she said. The process of putting the poster together helped solidify the purpose of those hours in the lab. "That's when everything clicked." 
He and Damian were awarded first place for their poster presentation in the biomedical sciences category at the joint meeting of the Oregon Academy of Science and Sigma Xi. If it hadn't been for COVID-19, Eman and Damian would have been invited to present their research at the Sigma Xi Northwest and Southwest conference in Ashland, Oregon, in June. 
Eman attributes this success not to his intelligence, but to hard work. "I don't feel like I'm naturally smart; I have to work a lot at what I do," he says.  
Although people who know Eman would probably disagree with his first statement, they would undoubtedly agree that he demonstrates a strong work ethic. 
"That work ethic carries from where I come from," says Eman. "I come from a military background. Respect and work ethic were very high priorities in my family. And that carried over not only into schooling, but also into soccer."  
On top of his studies at Corban, Eman served as defender/midfielder for the men's soccer team. For Eman, success in the classroom also meant success on the field—and vice versa. "Some people think athletics and schooling have no correlation, but they correlate a lot," he says. "If you're not doing so hot in school, you're not going to feel super awesome on the field."  
Eman applied the same discipline and perseverance on the field as he did in the lab. This began at 5am each morning, when his coach, Tim Kagey, required the team to wake up early for practices. "If you have practice at 5 in the morning, you're not going to stay up until 12 trying to do homework. It instilled a lot of discipline, not only in myself but in other players as well." 
Together, the men's soccer team embraced a culture of discipline and perseverance, encouraging one another with the same wisdom Dr. Comstock had shared in Advanced Physiology: "Don't let one mistake determine everything else. Life goes on."  
Having only played one season of soccer prior to coming to Corban, Eman had to work especially hard at the sport he loved. His sophomore year of high school, he fell in love with soccer during a mission trip to Haiti. From that time on, he was determined to master the sport and compete at the college level if he could. When others might have given up, Eman discovered the power of hard work and learning from mistakes. These character traits served him well as he honed his soccer skills at the college level and persevered through the tough biomedical sciences major.  
Looking back, Eman sees how much he's grown not only in character but also in his appreciation for God and His Word. Having attended a secular high school, Eman was amazed at how much faith and science were integrated at Corban. "Coming to a school where you have professors who incorporate science and faith was something I really appreciated. You read something [in scientific literature] and you just think, 'Wow, God created that.' That's not something I would have done before."  
Taking Bible classes in addition to science classes just reinforced the fact that scientific knowledge and biblical wisdom were both crucial elements of Eman's life. "It's an interesting dynamic to go from a science class down the hill to a Bible class," he says. As a biology student taking classes with ministry majors, Eman appreciated the thoughtful questions they asked. "In Biblical Spiritual Formation with Dr. Sam Baker, students asked a lot of hard questions. And most of the time, Dr. Baker would have a really good answer."  
Eman enjoyed the classes that raised questions that could never be answered by scientific research. He particularly enjoyed taking Ecclesiastes from Dr. Mark Jacobson and being able to dive into just one book for a whole semester. "It's a unique opportunity that Corban allows students to have." 
Eman has discovered that a deeper understanding of Scripture has impacted the way he feels about church. "I'm a lot more involved going to church consistently. That's something I definitely struggled with before. I look back now and realize I wasn't super engaged. But now that's something I want to do. I want to engage in the Word." 
For Eman, faith, sports, and science aren't three separate entities; they're all interconnected ways of understanding God better and becoming more like Christ. From Dr. Comstock to Tim Kagey to Dr. Jacobson, the people who have invested in Eman's academic, athletic, and spiritual growth will continue to influence the way he sees God and himself. He says, "I'm excited to be able to apply everything I've learned at Corban." 
Following graduation, Emanuel Montanez was accepted for a one-year internship at Genetech, "a biotechnology company dedicated to pursuing groundbreaking science to discover and develop medicines for people with serious and life-threatening diseases." Eman will be working at their Portland campus in the Lloyd District. In this role, he'll act as a liaison between patients, providers, distributors, infusion centers, and insurance carriers. Concurrently, Eman will be pursuing his Master of Business Intelligence & Analytics from Corban University. He says, "Although I may not be directly involved in the lab creating vaccines or groundbreaking research, being able to analyze data for biotechnology or healthcare companies and optimize and improve their business not only helps them but also optimizes the treatments and therapies for their patients."