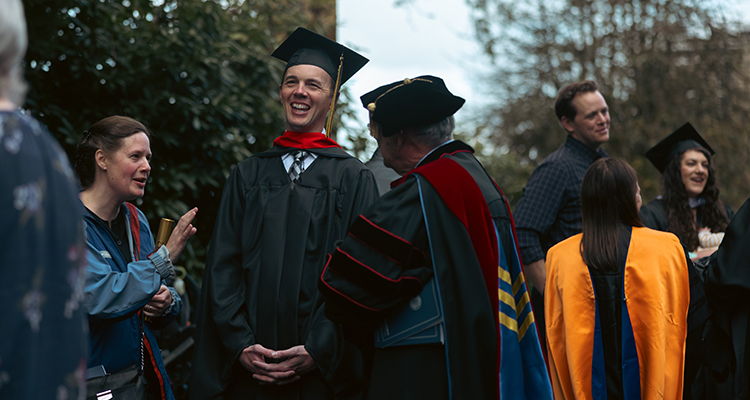 Why pursue a Doctor of Ministry?
---
"So Christ himself gave the apostles, the prophets, the evangelists, the pastors and teachers, to equip his people for works of service, so that the body of Christ may be built up until we all reach unity in the faith and in the knowledge of the Son of God and become mature, attaining to the whole measure of the fullness of Christ" (Ephesians 4:11-13).
At Corban University, we believe providing a D.Min. is one way to equip God's people for works of service—particularly service as leaders in the Church. But there are many, many ways you can grow, learn, and develop, so what does a D.Min. have to offer that other avenues of study might not? We believe a D.Min. is a unique opportunity because it:
Allows you to continue in your current ministry. With only a two-week residency, Corban's D.Min. programs provide the flexibility for you to earn your degree without sacrificing your current calling as a church leader. Many of our students maintain full-time church leadership responsibilities as they pursue the majority of their education online and arrange their course schedule to balance their many priorities.
Provides a diverse network of relationships with other ministry leaders. Both through online courses and your two-week residency, you'll have the opportunity to connect and engage with professors and other students who share your passion for ministry. Whether these relationships lead to engaging discussion and collaboration, potential career opportunities, or lifelong mentors and friends, the relationships you build with your cohort and D.Min. professors will enrich your experience both during your D.Min. program and long afterward.
Challenges you to continue deep, thoughtful study. A D.Min. can provide just the right structure and support you need to deepen your study of God's Word in a fresh way. Not only will you gain a depth of knowledge to take back to your ministry context, but you'll hone your ability to do thoughtful, intentional research on your own.
Is immediately transferrable and applicable to your ministry. A D.Min. is designed to help you develop the craft of teaching, preaching, discipling, and leading in a church context. While other degrees (such as a Ph.D.) are more scholastic and research-focused, the D.Min. recognizes the need for trained and equipped leaders in churches. You'll have the opportunity to take the ideas, skills, and practices you learn in your coursework and immediately apply them in your ministry setting.
Learn more about Corban's D.Min. program and discover how it can equip you for greater impact in your ministry.
Please feel free to reach out to us. You can can e-mail us directly or call. One of our admissions counselors will get back to you shortly.