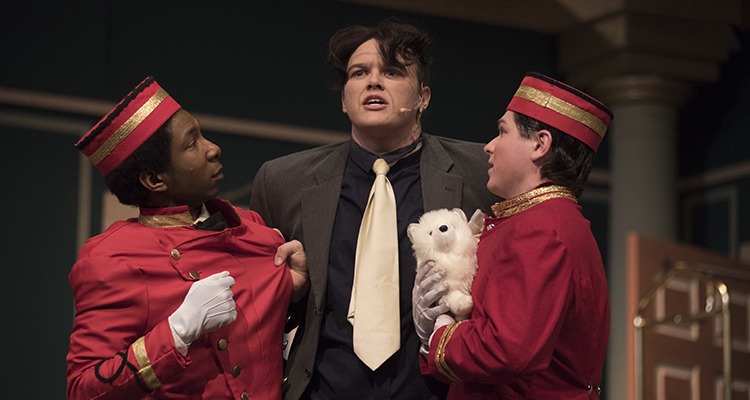 As people created in the image of God, we are all called to create and shape the world around us in meaningful ways. Whether it involves telling a story through the performing arts, evoking emotion through a musical score, or experimenting with texture, color, and meaning through visual arts, creativity and the arts are central to the human experience.
At Corban University, you'll have many opportunities to participate in the arts!
Theatre Arts
---
Corban's Theatre Department produces two shows each year, rotating through comedies, tragedies, dramas, and musicals. Auditions are open to students in any major! In addition to participating as an actor, you'll also have opportunities to assist with costuming, makeup, stage managing, and more. Whether you want to be under the lights or behind the scenes, there are opportunities for you to exercise your creativity through theatre arts.
Music
---
In addition to robust academic programs in Music, Music Education, Worhsip Arts and Music Performance, Corban has several musical ensembles which are open to students in any major: Concert Band, Jazz Band, Orchestra, Concert Choir, and Chamber Choir. In addition, the student-run a capella group Hilltop Harmony gives students a chance to explore new avenues of creativity through music. Learn more about Corban's music ensembles.
Poetry Club
---
Exercise your creativity at Corban's poetry club (dubbed "Stinky Bagels"), which meets weekly to provide inspiration, tips, and support for aspiring and published poets. Join student leaders and Dr. Colette Tennant, author of two books of poetry (Commotion of Wings, 2010, and Eden and After, 2015), as she guides students through poetry prompts. You'll occasionally have the opportunity to read your works off-campus and attend Salem poetry events.
Fusion Art Show
---
Each year, students collaborate to create a multi-media art show consisting of original poetry (written in Dr. Tennant's poetry writing class), which then provides the inspiration for visual arts, primarily painting and photography. Students from all majors are able to participate in this collaborative project! Your work will also be displayed in the Psalm Center Gallery as well as at the Fusion Art Show.
The Barn
---
Come check out Corban's creative space, where you can participate in workshops such as Hand Lettering, Printmaking, Ceramics, and more! Students are also welcome to use the space for their own creative projects. In addition, a gallery exhibit features a rotating display of artists from the Willamette Valley. Learn more about The Barn!
Have Questions?
---
Please feel free to reach out to us. You can can e-mail us directly or call. One of our team members will get back to you shortly.