Corban University
Theatre Arts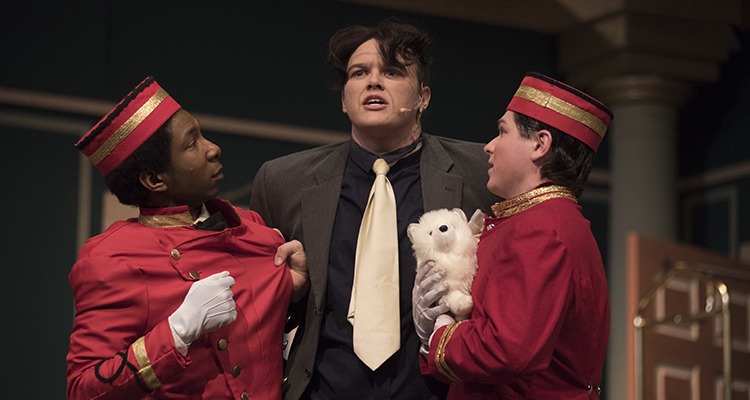 Corban Theatre Arts provides a platform for students to use their talents to serve God in creative productions that display truths about the human condition, the world we live in, and the power of redemption. We do this through a variety of genres, including comedies, tragedies, dramas, and musicals.
When you participate in theatre at Corban, you'll…
Activate your creativity and imagination.
Embody a variety of characters that challenge your assumptions and help you explore empathy in a new way.
Cultivate meaningful relationships.
Develop skills like collaboration and interdependence as you work with a close-knit team.
Learn more about God's character as you participate in what Tolkien calls "subcreation."
Auditions are open to all Corban students.
Corban produces two shows each year, one in the fall and one in the spring. Auditions are traditionally held during the second week of classes each semester.
Our Past Productions:
A Midsummer Night's Dream – William Shakespeare
A Murder Is Announced – Agatha Christie; Adapted by Leslie Darbon
Alice – Rachel Ost
American Primitive – William Gibson
An Enemy of the People – Henrik Ibsen; Adapted by Arthur Miller
Anne of Green Gables – L. M. Montgomery; Adapted by Joseph Robinette
Antigone – Sophocles; Adapted by Jean Anouilh
Arsenic & Old Lace – Joseph Kesselring
Bear Witness – James Reach
Busy Body – Jack Popplewell
Camelot – Frederick Loewe & Alan Jay Lerner
Cinderella – Rodgers & Hammerstein
The Cup of Trembling – Elizabeth Berryhill
Curious Savage – John Patrick
Esther: The Hebrew Queen – David Ian
Everyman – David Ian
Exit The Body – Fred Carmichael
The Firstborn – Christopher Fry
God's Favorite – Neil Simon
The Good Doctor – Neil Simon
Good Wives – Louisa May Alcott; Adapted by Peter Clapham
Great Expectations – Charles Dickens; Adapted by Barbara Field
Harvey – Mary Chase
The Hound of the Baskervilles – Sir Arthur Conan Doyle; Adapted by Tim Kelly
I'll Leave It To You – Noel Coward
The Importance of Being Earnest – Oscar Wilde
Into The Woods – Stephen Sondheim & James Lapine
Little Theatre's Production of Hamlet – Jean Battlo
Little Women – Louisa May Alcott; Adapted by Peter Clapham
Luxury Cruise – Fred Carmichael
Macbeth – William Shakespeare
The Miracle Worker – William Gibson
Much Ado About Nothing – William Shakespeare
Murder In The Cathedral – T. S. Eliot
The Music Man – Meredith Wilson
The Odyssey – Homer; Adapted by Thomas Hischak
Our Town – Thornton Wilder
Pilgrim – John Bunyan; Adapted by Tom Key
Quilters – Barbara Damashek & Molly Newman
Relative Values – Noel Coward
Robin Hood – Larry Blamire
See How They Run – Philip King
Sense & Sensibility – Jane Austen; Adapted by Emma Whipday
State Fair – Rodgers, Hammerstein, Briggs & Mattioli
Suite Surrender – Michael McKeever
Tartuffe – Jean-Baptiste Poquelin (Moliere)
Twelfth Night – William Shakespeare