Corban University
December 2, 2019
"The Heart of the Program": Rachel Martin Shapes Corban Softball Team for Success, On and Off the Field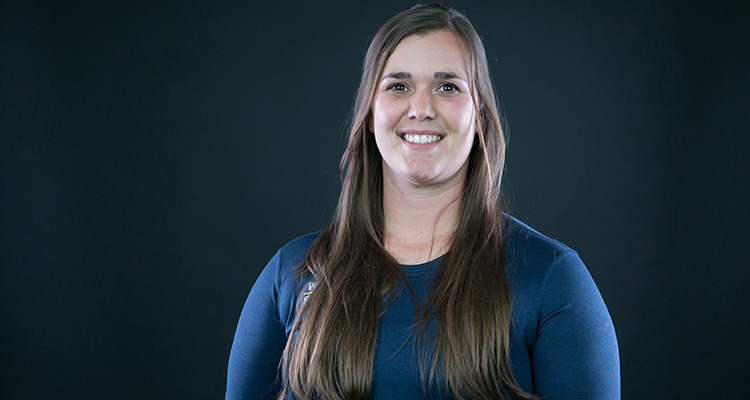 "A great hitter is successful three out of ten times they attempt," says Rachel Martin, head coach of Corban University's softball program.
Failure is built into the game of softball in a way that differs from other sports. In softball, not only is failure highly likely, but it's also highly personal. When you're hitting, "It's just you against the pitcher," Rachel explains. For a moment, the spotlight is on you alone. And what you do impacts your entire team.
Rachel's love of softball began as she grew up watching her father coach high school. She started playing when she was 10 years old, and began accompanying her dad to coaching clinics at the age of 14. Even after playing on Corban's team in college and later assistant coaching, Rachel couldn't have imagined she'd one day step into the role of head coach.
When she was hired as the new head coach at Corban this past summer, Rachel immediately embraced her task of building on the team's tradition of excellence (which brought them all the way to the final game of the NAIA Softball World Series in 2017).
One of Rachel's highest priorities in her new role is to develop her team into a group of excellent women who trust each other completely, both on and off the field.
No matter how skilled an individual player is, "If an individual on a team doesn't trust wholeheartedly the person standing next to them or behind them—if a team member doesn't believe in the team's goals and is more self-motivated than team-motivated—then a team's not going to be successful." But, Rachel says, "When a team believes in a common goal and has a common thread running through them, and when a team trusts one another and loves each other unconditionally, they're unstoppable."
"We are not just another team—we are a family of young ladies who absolutely love the Lord and His plan for us. We are all here for a reason, here because we were called to this team." – Sarah Probasco, senior, pitcher.­
This past semester, Rachel has focused on helping her athletes build lifelong bonds both on and off the field as they develop trust, dependability, and integrity.
For example, Rachel says, "We don't do anything 'softball' on Fridays in the fall. We give up that day of practice to work on getting to know each other on a deeper level." From silly activities like lip-synching competitions to team outings to the pumpkin patch or even an intensive day at the Salem Ropes Course, each activity is designed to help team members bond, get to know each other, and learn to trust one another.
In addition to fun activities, the women spend time serving together. One weekend each year, they travel to Washington Family Ranch in Central Oregon, where they work at a middle school Young Life camp. From serving meals to cleaning up to enjoying a family-style dinner with campers, the athletes get an opportunity to unplug from technology and share the love of Christ through simple acts of service.
"Students here don't just learn about Jesus and sit in our dorm rooms; we go out into the world and represent Jesus through our interactions and relationships with one another," says Kaycee Arase, sophomore, utility.
The team also bonds through spiritual growth, as they choose one chapel to attend together each week and participate in team Bible studies and devotions through a Bible app. "This last one was a 31-day Bible study about being 'all-in,'" says Rachel. She particularly loves reading the women's responses to each day's prompts, seeing them make connections between Scripture and their own lives.
The young women also have the opportunity to serve together through fundraising initiatives. "We ask people who work hard for their money to donate toward our program," says Rachel, "so in response, we're going to work toward our goals as well." This year, the women raised nearly 50% of their fundraising goal themselves as they worked safety management for football games at Oregon State University.
"We've done alcohol monitoring, field management—making sure only people with the right credentials are on the field," explains Rachel.  One of the highlights of the season was hearing compliments from the staff. The event staff told Rachel, "Your girls are so amazing. They go above and beyond. They're attentive to detail." They added that her athletes had the best conduct they'd seen from a guest safety management team in four years. These kinds of compliments point to more than just the work ethic of the athletes themselves. They point to the values Rachel is fostering in her team as she helps them function as members of the Body of Christ.
Never has this unity been more apparent than when one of the team members learned her mother had cancer and would have to undergo surgery. She asked her teammates to pray for her, sharing that she couldn't afford to fly home because of the expensive medical bills.
Almost immediately, Rachel began receiving calls from the other women on the team, asking if they could contribute money to her flight. They got the word out to their families and friends, and "In less than four hours, we were able to come together and pay for her flight and her transportation to and from the airport and her home," says Rachel. The women who couldn't afford to contribute financially were fierce prayer warriors throughout the process. "It was really cool to see the team understand that softball isn't everything, that the relationships we're building are what we're going to carry for life."
"Corban softball is a family," says Taylor Beasley, sophomore, infield. "Not only is every girl on the team a sister, but when anything happens in your life, you know you have 20+ girls who will drop everything to be there. We are a fellowship of girls who use our God-given talents to glorify Christ in all aspects on and off the field."
When asked how the team is playing so far this year, Rachel says, "They're on fire." She describes how, even during pre-season, they won all five games against local junior colleges. When matched up with Oregon State University in a pre-season game, they stayed ahead for the first five out of ten innings. It takes a measure of humility and class to compete against the same school the women serve as part of their fundraising initiative, but the women stepped up to the plate without hesitation and held their own against the D1 school.
"Their ability to put themselves on the back burner and put the team first is huge," says Rachel. "We hold a larger roster, so not every girl gets to be the person making the throw or having the hit. But they understand there are so many more roles than just the nine on the field that lead to the victory."
She gives the example of an athlete putting in the extra work during practice and challenging another teammate to join her. Perhaps only one of the two women will start in the next game, but the success belongs to both of them, because they challenged one another to improve.
"Our team is a family," says Kaylee Buhrkuhl, senior, infield/outfield. "We hold each other accountable, push each other to our full potential, strive for excellence, and strive to show Christ's love and truth every day."
"It's amazing to see the women buying into a different culture," Rachel says, "because that's not typical." The typical culture would elevate personal success and glory, with each athlete striving to become the face of the program. But this isn't the case on Corban's softball team. Rather than striving to be the face of the program, "Our athletes are the heart of the program," says Rachel. "That's what matters."
"It's been an honor and a pleasure to wear the uniform these last three years, and I look forward to one last season. Go Warriors!" – Kasie Kloempken, senior, third base
This article is part of a series of stories featuring God's wonderful work happening at Corban University, as well as an opportunity to give to student scholarships. Thank you for prayerfully considering a gift to make a difference in a student's life, as well as the world!