Corban University
December 2, 2019
Corban Welcomed Over 70 Salem Professionals on Campus for 5th Annual Mock Interviews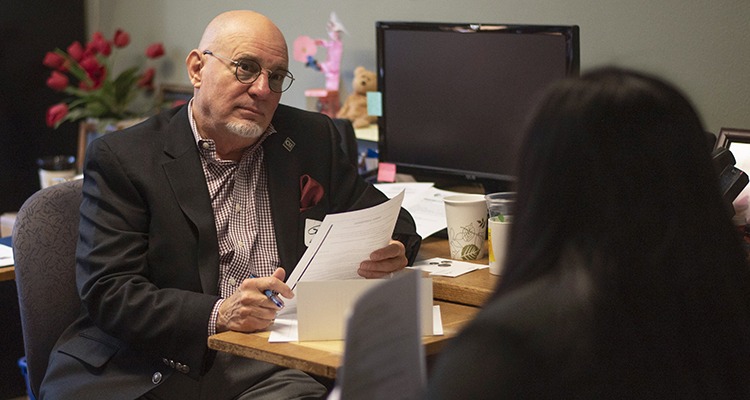 On Friday, November 22, over 70 professionals from the Salem community volunteered their time to assist with Corban's 5th annual mock interviews. This year, over 85 students in the Hoff School of Business got to practice their interview skills in an environment that simulated the pressures and expectations of an actual job interview. Community members from a range of fields and positions—including HR professionals, executive directors of nonprofits, marketing experts, and more came out to interview students and offer them feedback and advice.
Among guest interviewers were over 20 Corban alumni, many of whom are now the very employers in the Salem community who will be hiring Corban graduates in the future. Dr. Bryce Bernard, Professor of Business, says, "When you look at our employment rates in the school of business, it's not because of us [the professors]; it's because of our alumni who are hiring."
100% of Corban's 2018 accounting graduates had jobs within 3 months of graduation. 30% of 2019 grads had jobs lined up BEFORE graduation.
One Corban alumnus who returned to volunteer was Zach Lund ('19, Business Administration). A recent Corban graduate, Zach participated on a team of panel interviewers. Together, the interviewers offered guidance and advice to students.
When asked why he decided to volunteer for mock interviews, Zach said, "Just giving back, and remembering how constructive and helpful it was for me to be on the other side of that table last year." Since graduating last May, Zach went through a rigorous interview process himself, and made it into the top 1% of interview candidates before being offered a job with Comcast doing business-to-business advertisement sales.
"It was really cool to be on the other end and be able to give positive and constructive feedback to someone, realizing I was in their position just a year ago," Zach said.
Another interviewer, Lori Bonham, was recently hired as Corban's Director of Human Resources, having an extensive background in HR from her time with the K-12 school district in The Dalles, Oregon. When asked what she hoped to provide for students as a mock interviewer, she said, "I'm looking forward to being able to share some of the tips and tricks I've learned. I've sat in on a lot of interviews and read a lot of resumes. I can definitively say, after perusing 80 resumes for one position, these are the 'dos' and these are the 'don'ts.'"
Students were assigned either a one-on-one interview (which lasted approximately 30 minutes) or a panel interview (approx. 50 minutes). Panels were comprised of about five interviewers with a range of backgrounds and experiences.
After being asked a series of interview questions, students received feedback from their interviewers—from their body language and delivery to the formatting of their resumes. One student, Jake Michalovich, said about his one-on-one interview, "It went really well. My interviewer was able to give me a lot of really good insight and good pointers for interviews throughout the whole process. He reassured me that silence in an interview is okay."
Ashley Tank, business accounting major ('21), remembered participating the previous year and how valuable the experience was. "I went in nervous, but once I got into the interview, my interviewers were super friendly and helpful. They gave you tips—'You did really good at this, but you say "um" a lot.' I was able to practice it and be more aware of it." One of her interviewers, who worked with the Salem Chamber of Commerce, even mentioned a job opening for an event planner. "If you weren't still in school, we'd have loved for you to apply," she told Ashley. This year, Ashley had the opportunity to put her event planning skills to use as a volunteer assistant at the mock interview event, as she made sure guests on campus were well cared for.
One guest interviewer, Tom Suing, has had years of experience helping people in the job-seeking process. He currently works as an occupational consultant for the State of Oregon for vocational rehabilitation, and he's enjoyed participating in Corban's mock interviews for the past three years. "I think it's a great opportunity to sit down and talk with students," he said. "The main thing I watch for in the interview process is whether someone is being genuine or if they appear scripted. I always tell somebody, 'Don't put on a show. Answer the questions. Think about it. Takes some time, and be yourself. Don't try to be what you think the interview panel wants you to be.'"
Tom added that he's interviewed several students over the years who he would have hired himself. "Over the last two years, I've gone home and said, 'I met a couple of students today who I'd definitely hire if I were in the position to hire them for that type of work.'"
Dr. Bernard notes that several students have received job offers through mock interviews over the years. Last year, he remembers Grove & Mueller, a CPA firm, calling Corban after the interviews had taken place and inquiring if a particular student had committed to a job yet.
But regardless of whether students walk away with job offers, the primary value of the mock interviews lies in students gaining experiences they couldn't otherwise get in the traditional classroom. "Students can sit in my office, and I can tell them what an interview is like," says Dr. Bernard, "but Kelli Gassman [Assistant Professor of Business] has created an environment where they actually get to practice."
Learn more about Corban's Hoff School of Business.