Corban University
December 9, 2019
Celebrating "Great Joy": Corban University Highlights from Fall 2019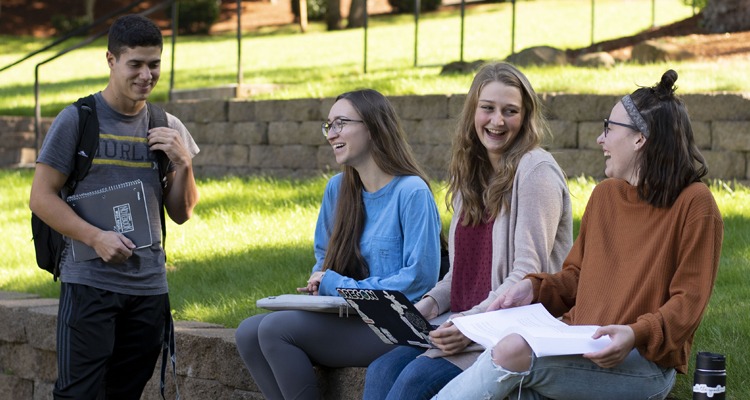 "But the angel said to them, 'Do not be afraid. I bring you good news that will cause great joy for all people.'" – Luke 2:10
This year's Christmas verse, Luke 2:10, talks about Good News and Great Joy—and this fall, Corban University has experienced an abundance of good news! In the midst of a challenging culture for Christian higher education, Corban University stands strong—grounded in the truth of God's Word, unwavering in our commitment to educate Christians who will make a difference in the world for Jesus Christ. As cultural values shift; religious liberties become increasingly threatened; and the world seeks answers in counterfeits like pleasure, position, and possessions; Corban maintains its 85-year legacy of delivering biblical truth and good news.
When Christ was born in Bethlehem, the shepherds were told to rejoice—that the birth of Christ would be good news of great joy for all people. At Corban, we continue to rejoice over this good news as we see the Lord moving in mighty ways, all for the glory of Christ:
Corban was blessed to see a nearly 15% increase in new student enrollment this fall—including a particularly high number of transfer students. We are one of the few universities to see this percentage of growth in the current climate. Learn more about this year's enrollment trends.
Students are thriving in Corban's new agribusiness program under the leadership of full-time faculty member Tim Peterson, who's passionate about equipping students to meet the challenges in the agricultural industry from a biblical worldview perspective.
We have strong Christian coaches at the helm of all our athletic programs, including our NEW programs: women's lacrosse, women's beach volleyball, and men's wrestling. Over 30% of undergraduate students compete for Corban's athletic teams, and each student-athlete is challenged to grow in character, competence, and Christ!
Twenty-five adults in custody at the Oregon State Correctional Institution (OSCI) make up the first cohort of Paid in Full. The partnership between Paid in Full, OSCI, and Corban University establishes the first fully accredited four-year degree program in the Oregon prison system, providing a faith-based education with the potential to transform lives. On October 14, under the leadership of Program Director Dr. Amit Bhatia, this cohort began a Freshman Orientation course and a class in Bible Study Methods. Learn more about Paid in Full and watch a powerful video testimony from one of the men in Corban's program!
Corban partners with organizations around the globe to equip Christians for Kingdom work, including Bible translation training in Israel, teacher education in Indonesia, and pastor training in Africa. Most recently, Corban partnered with the Institute of Biblical Languages & Translation to offer an MA in Classical (Biblical) Hebrew and Translation Consulting!
In the classroom, in chapel, and through continuing conversations on campus and in the community, our students are challenged to seek the truth in love as they wrestle with today's tough cultural topics. Revisit Dr. Nord's chapel earlier this semester about Truth and Love.
Indeed, Corban students are signing up for challenges, facing fears, and taking risks as they mature into courageous Christ-followers who are passionate about advancing God's Kingdom. Students are being discipled and equipped on Corban's campus, in the Oregon prison system, and around the world so they can share the Good News of Christ wherever God calls them.
This article is part of a series of stories featuring God's wonderful work happening at Corban University, as well as an opportunity to give to student scholarships. Thank you for prayerfully considering a gift to make a difference in a student's life, as well as the world!