This past May, Corban's School of Ministry traveled to Cameroon, West Africa. Faculty Dr. Greg Trull, Dr. Sam Baker, and Dr. Tim Anderson were joined by seven ministry students (Marcus De Vight, David Adams, Reilly Pekkola, Shannon McHugh, Bradley Trull, Andrew White, and Stephen Anderson) for a sweet time of ministry, teaching, and celebration.
While the student team participated in a variety of ministry opportunities, including youth outreach, evangelism, and hospital ministry, faculty prepared Corban's second cohort of pastors for graduation from Corban's pastor training program.
Corban's Africa Training Partnership provides training and mentorship for pastors across West Africa who are actively mentoring young ministry leaders themselves. The 41 pastors who graduated on Wednesday, May 30, represent seven different denominations and minister to over 540 church leaders in West Africa!
Corban's involvement comes at a troubled time for Cameroon. "The nation is deeply divided, and suspicions spread about government plots." The government regularly shuts down civilian activity and imposes nighttime curfews. Although Corban's team has been asked, "Is it safe to be there now?" Greg notes that the church has always taken extraordinary precautions to keep the team safe. "While we have faced no threats, we have heard many thanks for loving the churches of Cameroon enough to come at a troubled time."
Throughout the week days, students participated in door-to-door evangelism (which saw nine people come to faith on a single Monday morning!), led Bible studies, and accompanied chaplains for hospital ministry. Students had the opportunity to visit several wards, including HIV, radiology, postnatal care, surgery, and hospice.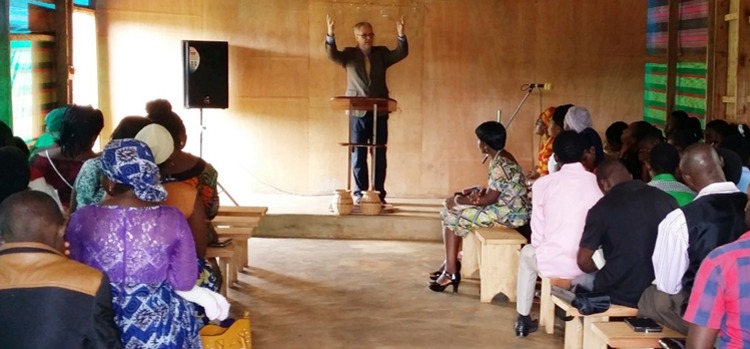 In addition, several students preached on Sunday morning. Between ministry students and faculty, the Corban team ministered at eight different churches, one of which, Corban Baptist Church, had been named after Corban University!
Greg shares, "Sometimes it's hard to imagine what a big and gracious door the Lord has opened for Corban here. Some of the students who preached on Sunday, preached to an entire church audience for the first time. Corban professors, too, have been granted special kindness. Tim Anderson was the first Corban professor invited to speak at the House of Prayer for All Nations, a Pentecostal church. I preached at one of the oldest and largest Baptist churches in Cameroon. Our team ministered the Word to 2,940 face-to-face, plus many more tuning in to the Nkwen services via radio. We're so grateful for what we have received from the Lord and from our friends in Cameroon."
Many of the host pastors of these churches are past graduates of Corban's Pastor Training Program, and some graduated with this year's cohort.
Throughout the week, Corban faculty spent time teaching and discussing topics such as storytelling approaches to evangelism (with a focus on using story to reach Muslims), the process of studying controversial topics, and spiritual formation in ministry leaders.
Greg, who conducted the class on controversial topics, says, "I walked them through a process of discovering key texts, compiling the main points for each argument, listening to both sides, surfacing the crucial questions, discovering the common ground, and answering the key questions." He also focused on how biblical calls to "unity, truth, and love" drive each step. Together, Greg and his students looked at the issue of modern-day prophecy, an especially critical topic considering the fact that Corban works closely with both Baptist and charismatic pastors.
Greg shares, "Thirty-nine Christian leaders from seven denominations spent nearly two hours together studying one of the most divisive issues in Cameroon. Not one argument. The pastors filled the session with insightful questions and lively discussions punctuated with laughter. We ended with heartfelt prayers that Christ would be glorified and the Cameroonian church would shine as a model of unity built on the Gospel." During a time of government unrest, a unified church is an especially powerful blessing in Cameroon.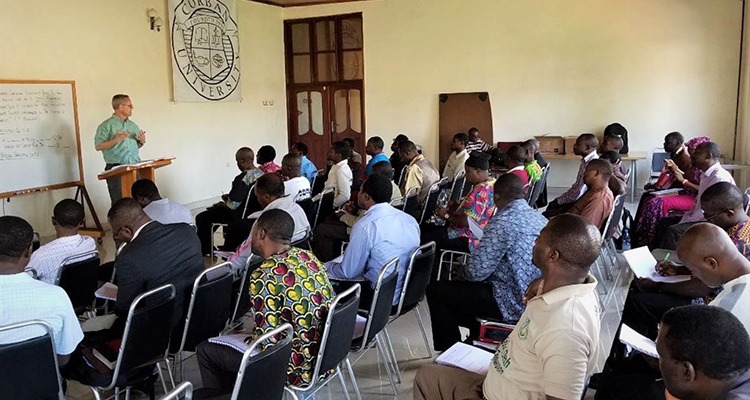 After a week spent training and ministering, everyone gathered on Wednesday, May 30, to celebrate the commencement of 41 pastors from the training program (Corban's second cohort of graduates).
"I'm sure the phrase 'You should have been there' has worn out from overuse," says Greg, "but I do wish every supporter of our Africa Training Partnership in Cameroon could have experienced our Cameroon graduation. The mix of pageantry, joy, and passion were unmatched."
In addition to hearing from several speakers and enjoying worship music, the graduates participated in the traditional School of Ministry baton ceremony. Each graduate was given a relay baton with "Corban University" and 2 Timothy 2:2 inscribed. This served as a reminder that ministry is a relay race, not a sprint, and that our task is to prepare and disciple the next generation of ministry leaders, to whom we will one day pass the baton.
The ceremony was followed by cake and a feast of roast chicken, avocado salads, and traditional Cameroonian rice dishes and jammajamma (greens with spices).
"It ran a little shy of six hours," Greg shares, "barely long enough to hold all the joy. Thank you," he adds, "for helping 41 more Corban graduates make a difference in the world for Jesus Christ."
Written by Amelia Kaspari, Staff Writer