Corban University
October 11, 2019
Giving Forward, Giving Back: Lizbeth Shares Her Dream of Becoming a Teacher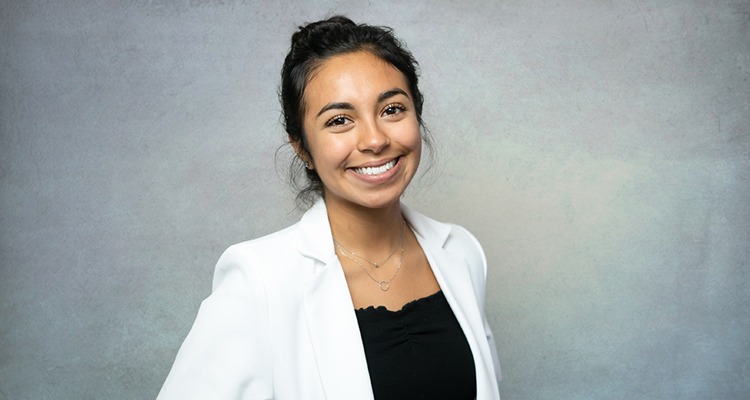 "Just imagine three enchiladas," Lizbeth said to the young girl swinging her legs impatiently under the table. The girl had been struggling with her math homework for the past 30 minutes, and was now complaining that she was hungry. So Lizbeth decided to turn the lesson into a tantalizing feast. "That probably made it worse," Lizbeth laughs, but she remembers the moment the math problem finally made sense.
"When we got to that 'aha' moment, her face brightened up. It gave me chills, because it was so satisfying to see her actually understand."
Volunteering at Cesar Chávez Elementary School is just one of several experiences that confirmed Lizbeth's decision to study elementary education.
"It all started when my brother was struggling." Born in the United States to parents who had immigrated from Michoacán, Mexico, Lizbeth and her brother grew up speaking Spanish. School was difficult for both of them, and Lizbeth remembers being pulled out of classes to focus on certain skills. But she was determined, and she passed her English proficiency test in the 7th grade, going on to graduate from McKay High School with a 3.9 GPA.
Meanwhile, she watched her younger brother struggle, to the point that his teachers were considering holding him back. "I'll help you out, don't worry!" Lizbeth reassured him. While their parents worked to provide for their family, Lizbeth coached her brother through his homework.
As she became a tutor both at Cesar Chávez and at home, Lizbeth realized how much she enjoyed supporting and encouraging students who face unique challenges. Language barriers, chaotic home lives, and parents who work long hours and are unable to help with homework all contribute to gaps in students' education. As someone who has experienced some of these challenges, Lizbeth is passionate about helping the next generation overcome them. "If God wants to use me that way, it would be amazing," she says.
During her junior year of high school, Lizbeth began investigating different colleges and universities through the AVID program at McKay. As a group, they toured one of the bigger state schools in Oregon, but Lizbeth immediately sensed that a big school wasn't for her.
Not long after, the group visited Corban. "As soon as we stepped on campus, I felt surrounded by peace," Lizbeth says. They were greeted with a sign that said, "Welcome McKay Students!" Throughout the tour, Lizbeth encountered students and faculty who met them with kindness and authenticity.
But the journey to studying elementary education at Corban University wouldn't be an easy one. As the first person in her family to go to college, Lizbeth says, "I didn't know how to apply for the FAFSA—I didn't even know where to start."
Through AVID, she found mentorship and support throughout the application process, and even had a local Salem pastor offer to pay for her ACT. She applied to Corban as early as she could. "I emailed Teisha, [my admissions counselor], every other day. I came to visit Corban five times!"
However, setbacks would continue to present themselves. Although she had a strong GPA, Lizbeth hadn't scored as well as she'd hoped on the ACT, and the price tag for a four-year private college seemed daunting.
But between God's provision and Lizbeth's own determination, a path opened up for her to attend Corban. She even received a bilingual educator scholarship that seemed perfectly designed for her.
Now in her sophomore year, Lizbeth has discovered a community whose kindness reaches far beyond a warm greeting. At Corban, "people really do have God's heart," she says.
She remembers her speech professor, Dr. Trammell, encouraging her to share her testimony and the story of her parents immigrating to America, and how her classmates listened eagerly to learn about the challenges immigrants face. She remembers how she wrote a paper on divorce and how it had affected her life, and the way her writing professor thanked her for sharing her thoughts and experiences. "Professors really want to see the personal side of your faith," she reflects. At Corban, an assignment wasn't just an assignment—it was a way to be encouraged and mentored by people who cared about her more than the grade she earned.
Lizbeth has discovered not only a supportive place to develop into an elementary educator, but also a place to fall in love with God's Word. "It sounds weird, but you fall more in love with God's Word the more you know about it." She remembers her Bible Study Methods class with Jordan Newton, where her perspective on the Bible completely changed.
Before, Lizbeth would see verses like Jeremiah 29:11 splashed across the covers of notepads at TJ Maxx, and she'd think, "I know that verse. That's such a basic verse." But after taking Bible Study Methods, her view has changed. "Interpreting the Bible is something way deeper. There's so much more meaning to it, so much more than what we see." She's found herself picking up the Bible more, both for class and for herself. Its weight in her life has grown, along with her love for it.
Despite the hard work she's invested in her education thus far, Lizbeth is quick to give the credit to God's faithfulness and her parents' sacrifices. "They started from zero," she says of her parents. She can't wait to give back to them in some way, thankful for everything they've done to pave the way for her to attend college.
Lizbeth is excited for the not-too-distant day when she'll graduate from Corban with her degree in elementary education. "That would make my parents proud, it would make me proud, and ultimately God, knowing that I did it because of Him. He has helped me so much."
Lizbeth is also excited to tell more people about Corban. Recently, she visited Waldo Middle School, and every time a student asked her about her experience at Corban, she'd say, "Please go! It's super awesome." She says, "I absolutely love this school. It really does shape students, and will shape you into a student you never thought you would become."