Corban University
April 22, 2020
Emergency Student Care Campaign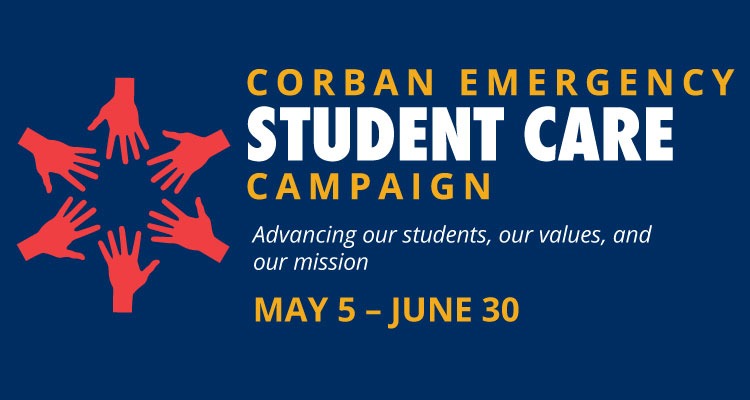 As a result of the COVID-19 crisis, many of Corban's students and their families are struggling financially to continue their education at Corban.
For example, Hannah's parents have been laid off and she still needs to pay her final bill for spring tuition.
David's summer job has been eliminated. He wonders if he can return next fall.
Slamet from Indonesia is stranded in the US with additional unplanned expenses.
Beyond individual students' financial struggles, colleges and universities across the nation are reeling from the changes brought about by COVID-19.
The landscape of higher education is radically changing as families reevaluate whether they can afford college, but the need for biblically-based education that prepares Christians to serve a hurting world is more crucial than ever.
That's why we're mobilizing our Corban alumni and friends to rally around Corban University and our students in this critical time by launching a two-month Emergency Student Care Campaign, which will conclude on June 30!
Your gift will help strengthen the Corban Fund, so we can mitigate tuition increases and protect existing scholarships, easing families' financial burdens and helping students return to Corban in the fall.
Several generous Corban friends have offered up a matching challenge of $300,000 toward the Emergency Student Care Campaign. Every dollar you give will be matched, doubling your impact!
You can rally around our students right now in three important ways:
Make a gift to help meet critical needs and advance students' ongoing education at Corban University.
Launch a fundraiser to inspire those in your circle—whether on social media or through other channels—to join you in the campaign for Corban!
Pray for our students, that God would meet their needs and reveal His faithfulness to them in this difficult time.

Thank you for your ongoing support of Corban University's mission "to educate Christians who will make a difference in the world for Jesus Christ."