Corban University
May 26, 2020
Dr. Sarah Comstock, Associate Professor of Biology, Partners with Santiam Hospital in COVID-19 Testing Research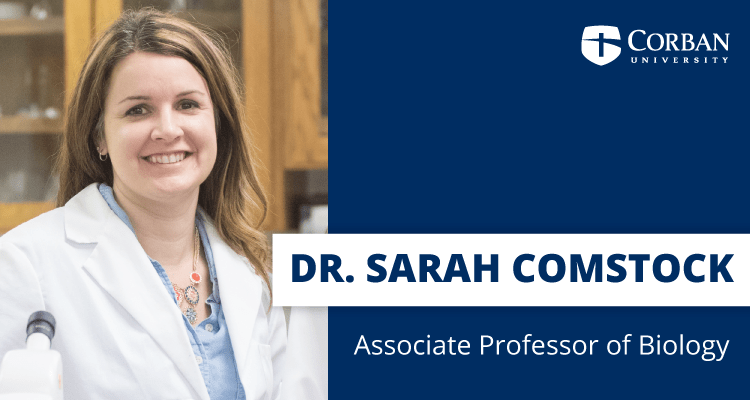 A small rural hospital in Stayton, Oregon, was awaiting supplies to run their qPCR test—the test that determines if patients are sick with COVID-19.*
But before the supplies could arrive, they were rerouted to a larger hospital in New York.
Meanwhile, just 12 miles away, Corban University's science labs housed a Real-Time PCR thermocycler and all of its supplies. Typically, this machine is used each semester by undergraduate students conducting research alongside Dr. Sarah Comstock, Associate Professor of Biology. But with the COVID-19 crisis, the labs were empty.
Luckily, Dr. Comstock had a connection with Santiam Hospital.
"Back in March, I started reading about the coronavirus in scientific journals," says Dr. Comstock. "I realized that some of the testing they were doing used equipment and supplies that I use in my lab every day for undergrad student research."
She called one of her colleagues at Santiam Hospital and offered to loan some of the Science Department's equipment to the hospital.
That initial phone call developed into a more serious conversation, and in April, Dr. Comstock and Santiam Hospital created an agreement outlining terms for borrowing and returning the supplies. Dr. Comstock loaded $100,000 worth of equipment into her GMC Yukon and drove it over to the hospital.
Ordinarily, equipment used for research in a lab would not be FDA-approved for diagnostics in a hospital setting. "But because the virus is so new, the FDA is issuing emergency use approval for research-only equipment to be used in diagnostics," says Dr. Comstock.
Since she's not able to perform diagnostic tests on humans in her research lab, Dr. Comstock worked with two of Santiam Hospital's medical lab technicians, James Richardson and Aaron Kirsch, who performed all of the diagnostic tests. Dr. Comstock emphasizes that none of this would have been possible without their work.
From her perspective, the partnership is a win-win. Santiam Hospital gets access to desperately needed equipment,** and the Corban Science Department gets to contribute in one small way toward the ongoing fight against COVID-19.
But perhaps an even more exciting "win" is the partnership that developed between Dr. Comstock and Dr. Janine Van Sant, MD, Santiam Hospital's resident expert on infectious diseases. "She's highly trained for dealing with diseases like COVID-19. It's really cool that someone working at such a small hospital knows how to deal with an outbreak like this," says Dr. Comstock. Usually experts of Dr. Van Sant's caliber are found in urban areas at larger hospitals.
When Dr. Van Sant asked if Dr. Comstock would be interested in teaming up on some research to test the efficacy of a new antibody test, she quickly agreed.
Dr. Comstock was eager to spend her summer in the lab, especially since Corban's own campus was closed. "Even when I don't have a grant going on," she says, "I do research over the summer in my free time. It's the sort of thing I do for fun."
Her research with Dr. Van Sant involved testing healthcare workers at Santiam Hospital to determine whether or not they had antibodies demonstrating that they'd already been exposed to the virus. Out of 350 healthcare workers, 300 volunteered to be tested as part of the research.
Dr. Comstock emphasizes that it's important for people to understand the difference between the antibody test and the qPCR test. While qPCR is used to determine if someone with COVID-like symptoms actually has the virus, antibody tests are used to determine if someone has been exposed to the virus in the past—and perhaps never even realized they had it. "The idea behind the antibody test is—hopefully—it can tell you if you're immune or not. If you're immune and can't spread it, then you could be free to go out," Dr. Comstock explains.
The purpose of the research was to discover the percentage of people who might have had the virus and are now seropositive (they have the antibodies to the virus). This is particularly important for healthcare providers, who are at a much higher risk of coming into contact with COVID-19.
"What's unique is that this is one of the first tests of its kind in a rural hospital," says Dr. Comstock. "We see a lot of big universities and hospitals doing groundbreaking research, but in reality, we also need to know what's happening in rural areas. I'm impressed with Dr. Van Sant's drive to do something like this in a rural area."
While they have already collected results, Dr. Comstock says she'd like their findings to remain a surprise until they're able to publish their research. She and Dr. Van Sant are in the process of submitting their research to scientific journals and hope to see it published soon.
Although more research is needed to determine if seropositivity actually implies immunity, research like Dr. Van Sant's is a crucial first step.
A possible next step would be to follow up with the research subjects who tested seropositive. "If they don't get sick again, then you're more likely to be sure that seropositivity means immunity," says Dr. Comstock. "It's just one more step in understanding this virus."
She emphasizes that research is a process that always contains uncertainty. "We often say, 'You don't prove things in science; you're just 95% confident that your answer isn't wrong.' A lot of people want proof and evidence and absolutes, but it's just not there."
Both kinds of testing—qPCR and antibody tests—are critical in understanding the virus and learning who's sick, who's healthy, and who may now be immune. Dr. Comstock says, "Hopefully, the more testing we have available, the less social isolation healthy people will have to experience."
Dr. Sarah Comstock teaches in the areas of physiology and cell and molecular biology. Dr. Comstock's ongoing research at Corban University has been supported through the MJ Murdock Charitable Trust and focuses on the effects of sugar induced obesity on liver metabolism and cataract development.
*qPCR stands for quantitative Polymerase Chain Reaction
**Testing supplies have since arrived successfully at Santiam Hospital, allowing them to have sufficient in-house testing to meet Marion County guidelines. If there are supply chain issues in the future, Corban University's Science Department remains committed to this partnership, and will assist in any way possible. We are so grateful for our partners at Santiam Hospital and the work they're doing to keep our communities healthy!