Corban University
August 26, 2019
Corban's Head Wrestling Coach Keegan Davis Shares How Wrestling Shaped His Faith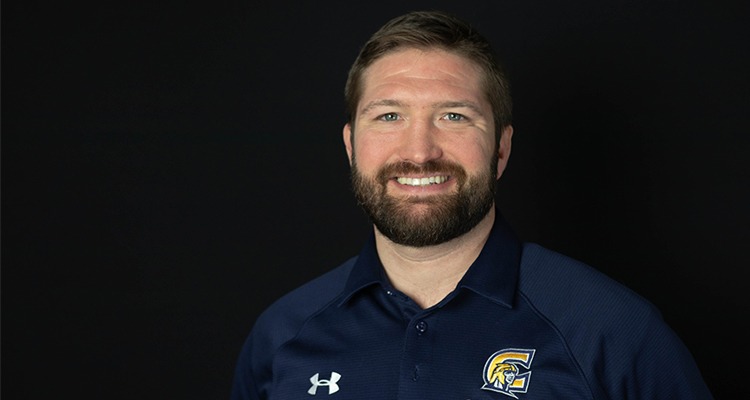 "Wrestling is one of those sports where it's not uncommon to see grown men cry," says Keegan Davis, Corban University's new head wrestling coach.
Having wrestled for Sprague High School and Oregon State University, Keegan knows first-hand just how personal a wrestling match can feel. "When you have success, you feel really good because it's a reflection of all the hard work you've put into the sport. When you don't have success, even if you've worked hard, it can be really crushing."
Unlike other sports, with wrestling, "it's just you and one other person. There's no hiding," says Keegan. "You can't blame your loss on a teammate. It's a very humbling sport in that way."
This is one of the reasons Keegan is passionate about coaching wrestling. "I view wrestling as a microcosm of life as a whole," he says. The ups and downs, the elating wins and crushing losses, mirror the trials and successes of life and help athletes discover what truly drives them and where their identity lies.
For Keegan, it wasn't until his sophomore year of college that he discovered his true motivation for wanting to be a successful wrestler. In high school, he felt as though he was wrestling for his family. "My dad wrestled, my older brother wrestled, and I wanted to continue the legacy." Success meant making his family proud.
"But it was funny," Kegan says, "because I won state title my sophomore year, and I remember feeling like, 'okay, now what?'" Although the work he'd invested was rewarding, the achievement itself was anticlimactic.
In college, Keegan's mindset began to shift. "My dad wasn't coming to every meet, and my brother was off doing his own thing." No longer wrestling for his family, Keegan began wrestling for himself—to challenge himself and achieve personal success. But the competition was tougher in college, and for the first two years, Keegan felt like he wasn't competing to win as much as competing not to lose. "To compete not to lose isn't super fun," he says wryly.
His sophomore year of college, something changed his perspective once again.
"I worked with high school wrestlers at a camp, and it became obvious: the impact I had on them simply because I was a college wrestler. They looked up to me." Keegan realized that the most rewarding reason to wrestle was neither family legacy nor personal achievement—it was the future impact he could have on young people.
"For the second two years of my college career, my mindset shifted to wrestle to honor God and to become the best version of myself so I could take those accomplishments and use them for someone else's benefit in the future. That was so much different. It was bigger."
Ever since, Keegan has found opportunities to coach, mentor, and teach. After graduating from Oregon State, he went on to earn his teaching license through Corban University and taught Social Studies for six years at Silverton High School, all the while coaching high school wrestling.
When Keegan learned Corban University was starting a men's wrestling program and would be in need of a head coach, he was immediately intrigued. "It just puts me in a position to have a way bigger impact on young people."
Keegan sees Corban as the perfect environment to use wrestling to help build students' faith, identity, and resilience. He hopes athletes will make the same realization he did—that athletic success is about more than personal achievement; it's about spiritual growth and giving back to others.
One of Keegan's favorite lessons from wrestling is found in Genesis 32:22-32, the story of Jacob wrestling with the angel. Although there are a variety of interpretations as to who exactly Jacob wrestled with and why, Keegan has taken away a salient point: God was willing to engage with Jacob, and Jacob was willing to engage back. "As we go through life, we're going to experience tough things. It's going to be hard. But if we continue to engage with God and work on our relationship with him, then that relationship is only going to get better and more meaningful."
Regardless of losses, setbacks, and even tragedies, Keegan has learned to continue engaging with, trusting in, and growing in intimacy with God.
He gives the example of a particularly painful struggle he endured with his wife Laura. Although they'd been through losses together, nothing could compare with the moment they learned their first child would be stillborn. "You look at statistics, and you see that's really hard on marriages," says Keegan, "but I felt like all of my life had been preparing me to get through something like that." Never had it been clearer why God had allowed him to experience crushing setbacks in wrestling and other areas of his life: He was being equipped to support his wife through the most painful experience of all.
Now, Keegan and Laura have been blessed with four healthy children, and have grown in resilience and faith together.
These are the kinds of challenges Keegan hopes to prepare his athletes to face with humility, perseverance, and a willingness to engage with God. He says, "Now I'm in a position where I can be there for other people and get them to a point where they're resilient in their faith and who they are as people."
This season, Keegan has been privileged to put together Corban's very first wrestling team. It's been exciting to help shape the team's direction, personality, and culture with each new recruit. "When looking at an athlete, I want to see first and foremost if they're seeking to develop a relationship with Jesus. If that's part of what they want to improve, then I know it's a good starting point." Although it's exciting to find talented athletes, Keegan is more excited when he finds guys who want to be the best version of themselves, whatever that looks like. He's also excited to have found assistant coaches who want to be the best version of themselves, doing everything they can to help the athletes develop.
Keegan will be joined by three assistant coaches – his brother Stryder Davis, his old high school coach Kary Hadden, and Corban alum Bryan Rozo. "What really motivates us as a staff is seeing our efforts poured into somebody else and watching them become what they can become," Keegan says. He's excited to help Corban men develop into their best selves, working hard so they can find not just personal achievement, but eternal impact in the lives of others.
For more information about Corban Wrestling, visit https://corbanwarriors.com/index.aspx