Corban University
July 9, 2020
A Voice for the Voiceless: Act Six Scholar Elamny Hernandez Shares Her Dream of Becoming a Lawyer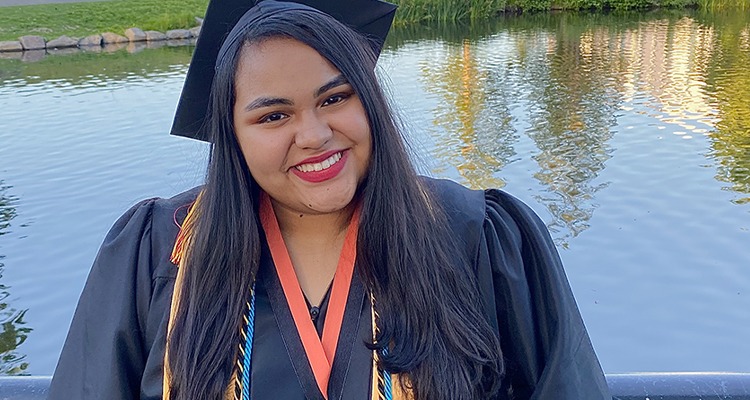 "I've always looked at myself as a leader," says Elamny Hernandez, who graduated from Forest Grove High School this past May. For Elamny, leadership isn't about being bossy or controlling—quite the opposite. "It's about helping others who don't have a voice—or may have a voice but don't know it yet."
Elamny has experienced the power of a leader and mentor coming alongside to help her discover her voice and tap into unknown potential.
One of the biggest mentors in Elamny's life has been her chemistry teacher, Ms. Van Roekel. "She helped me immensely with chemistry because I was struggling. The first semester, I ended up with a C. The second semester, I stayed after school to get advice from her." She finished with an A.
But Ms. Van Roekel's advice and support ventured beyond ionic and covalent bonds. She took the time to invest in Elamny as a person, even mentoring her through the Aspire program, which helps equip high school students for college.
"I see you in a small school setting," Ms. Van Roekel said. She mentioned the Act Six program, a competitive scholarship that would provide full tuition to participating faith-based schools—one of which was Corban University.
"I looked more into Corban, and I found that their political science major was really good," Elamny says. She was also captivated by the study abroad opportunities and the fact that Corban was a Christian school. "I'm so used to public schools," she says, where faith and academics are kept separate. The idea of integrating her faith with her major was shocking—and appealing.
"I'm excited for Bible classes and chapel," she says, "excited to open that side of my mind and think, 'What would Jesus do in situations I might face?'"
This is an excellent question, especially since Elamny is pursuing her political science degree so she can eventually go to law school. "I just really want to help other people's cases," she says. "I'm thinking about doing immigration law or civil rights law."
Elamny has had first-hand experience with immigration law, as she watched several family members go through the process of becoming American citizens, including her mother, who is from Venezuela and earned her U.S. citizenship last December. Elamny even remembers quizzing her mother before her exam: "Who was the first president of the United States?" "How many amendments does the Constitution have?" "Who makes federal laws?"
The idea of helping others face the challenges her family faced—empowering them and helping them feel heard and understood—is exciting. But Elamny has a long road ahead before she'll be able to become a lawyer.
Thankfully, she already has one sibling who has paved the way and graduated from college. Elamny's older sister, Valeska, graduated from Portland State University, and has been her number one resource when it comes to preparing for college life. Elamny has already had several conversations with her sister about what it's like doing college-level homework, going to class, and managing her time. "It is really neat to have a sister like her," she says warmly.
With the support and encouragement of her family and her mentor, Elamny applied for the Act Six scholarship, hoping it would allow her to study at Corban.
Once she had submitted her application and completed her interview, Elamny could do nothing but wait. "My parents and people around me would always ask, 'When do you find out?' It would just make me more nervous because I didn't know whether I got it or not!"
On the day she found out that she was one of 11 students accepted to Corban on the Act Six scholarship, Elamny happened to be meeting with her mentor, Ms. Van Roekel, who rejoiced with her.
Ms. Van Roekel, her older sister Valeska, and many other people have encouraged and supported Elamny throughout her education journey. Now, she's ready to develop her own leadership skills so she can be that same encourager and supporter for others.
When asked what she's most excited about as she prepares to attend Corban in the fall, Elamny says, "I'm excited to make new friends and grow in my faith. I'm excited about the opportunities I've been given, and I can't wait to grow as a leader with the other members of my Act Six cadre."
To future high school seniors considering applying for the Act Six scholarship, Elamny says, "Even if you may not view yourself as a leader, just try it! You never know what you may experience or see in yourself."
Learn more about the Act Six program at https://www.actsix.org/.