Corban University
October 24, 2018
"A Corban Homecoming" Brought the Corban Community Together for Flannels, Food, and Fun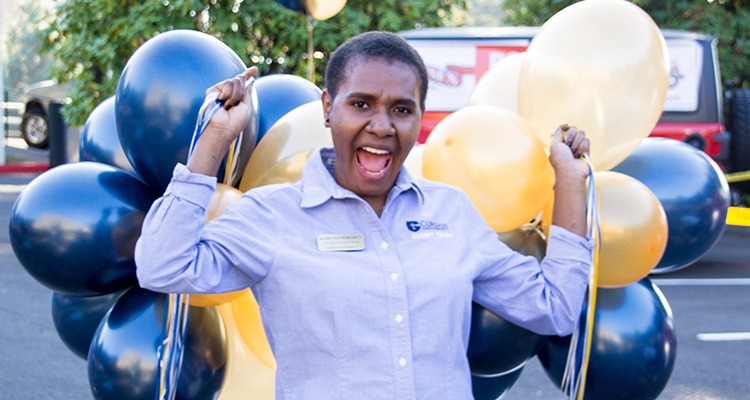 On Saturday, October 20, Corban students, parents, alumni, and friends donned their favorite flannels and gathered for "A Corban Homecoming." A mild fall day greeted guests and vendors, and the smell of glazed apple cider donuts and kettle corn mingled with grilling onions and the sound of a rubber sledgehammer meeting a metal car door.
The annual Car Smash, one of Corban's favorite Homecoming traditions, provided students and guests with the opportunity to put as big a dent as they could in a junkyard car, donated by State Farm Insurance, all while raising money to "smash poverty." This year, funds raised from the car went to Project Living Hope, a nonprofit that provides support to communities in Haiti.
In addition to the Car Smash, guests at "A Corban Homecoming" could vote in the annual Car Show, where cars decorated by students, staff, and alumni were lined up parade-style, decked out in balloons, paint, and colorful cardboard—with themes as varied as the Pixar film "UP" and the landscape artist Bob Ross. Winners of the Car Show would later receive cash prizes, based on the audience's favorites.
Food for the evening was provided by local food trucks. So Cheesy provided gourmet grilled cheese sandwiches and Mac N Cheese, while Dough on the Go served wood-fired pizza. Four flavors of gluten free vegan donuts were served by BigWig, and other delicious options included Bridgeway Café, El Pique Family Restaurant, Poppe Shoppe Kettle Corn, Baked and Loaded Potatoes, Island Girl's Lunchbox, Coffee in Motion, and On Any Sundae.
At 7pm, the food trucks closed up shop and the men's basketball game against Camosun College—the first game of the season—began. Warriors held a steady lead, cheered on by students, guests, Cadmar the Warrior, and President Sheldon Nord and his wife Jamie. Check out game highlights, including a post-game interview with Mitch Freeman, Corban's new men's basketball coach. When asked how it felt to be cheered on by such an enthusiastic crowd for their first game of the season, Freeman said, "It was a great environment. I know it means a lot to our players. . . . It was a great crowd, and hopefully we can get them to come back."
The excitement continued during half time, when Dr. Nord presented two prestigious awards to Corban alumni. Bryce Petersen ('13) was awarded the honor of Young Alumni of the Year, while Pat Mennenga ('71) was selected as Corban's Distinguished Alumni of the Year. Together with their spouses, Bryce and Pat were presented with a certificate and gift by Dr. Nord.
After Warriors closed out the 36-point game (105-69), fans stayed for a post-game concert by Corban alumni Stephen Anderson and Mike Morris. The bright basketball court turned into a dark-lit dance floor complete with balloons and beach balls, as the crowd enjoyed favorite covers ranging from Elvis to Justin Bieber.
Whether you came for the food, the competition, or the ability to drive a sledgehammer into a car door for a good cause, "A Corban Homecoming" had something for everyone. More importantly, it gave students the opportunity to take an evening off from their studies, and it gave alumni the opportunity to "come home."
Written by Amelia Kaspari, Staff Writer