Corban University
April 4, 2019
Corban University Announces Dr. Thomas Cornman as New Provost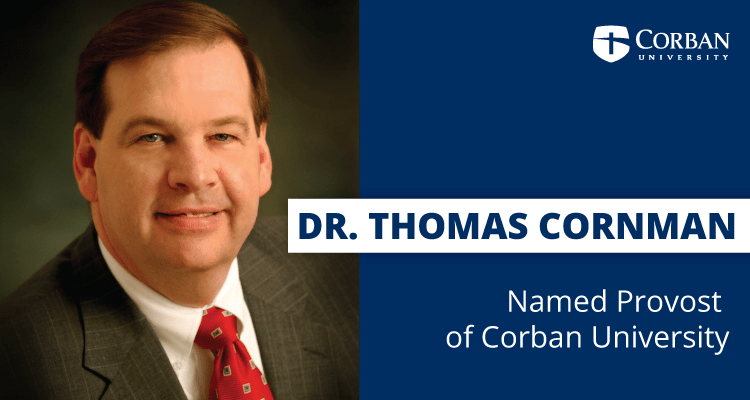 After a careful search, Corban University has selected a candidate for the position of provost: Dr. Thomas Cornman has accepted this position and will begin, tentatively, July 1, 2019.
Dr. Sheldon C. Nord, President, says, "This is a great hire for Corban University, and I can't wait to have Tom on campus. He has experience that is relevant to our niche in the marketplace, he brings maturity and competence, and he is a proven leader and team player."
Enjoy the following information so you can begin getting to know our new provost:
Dr. Cornman received his undergraduate degree in Bible Ministries at Cairn University (Langhorne, PA); his M.Div. in Church History at Talbot School of Theology (La Mirada, CA); his M.A. in Religion at Temple University (Philadelphia); and his Ph.D. in U.S. History to 1877 from the University of Illinois, Chicago. He has taught (primarily history) at St. Francis College (Joliet, IL); University of Illinois, Chicago; Aurora University (Aurora, IL); Roosevelt University (Chicago); Trinity International University (Deerfield, IL); and Moody Distance Learning Center (Chicago). Dr. Cornman has also served in leadership roles in institutions similar in mission to Corban University. He served as Vice President and Dean of the Undergraduate School at Moody Bible Institute (Chicago, 2001–2009), Vice President for Academics and Chief Academic Officer at Cedarville University (Cedarville, OH, 2009–2015), and Senior Vice President for Academic Administration and Dean of Trinity College and Graduate School at Trinity International University (Deerfield, IL, 2015–present). Dr. Cornman is married to Sue Cornman, and their two grown children are living in Southern California.
David S. Dockery, the president of Trinity International University, says the following:
"Tom Cornman is a committed follower of Jesus Christ, an astute student of higher education in general, and a convictional advocate for the work of distinctive Christian higher education. A capable academic leader with wide-ranging knowledge of trends and accreditation standards, a respected historian, a collegial colleague, and a faithful churchman, Tom's multiple years of experience and many good gifts will be a blessing for Corban University in the days ahead. We congratulate President Nord and the Corban community on this appointment, even as we wish the best for Tom and Sue Cornman."
Dr. Mike Patterson, who has served as Interim Provost for the past two years, has been instrumental in the transition process. Dr. Nord states, "Mike and Kathy have proven faithful Corban alum and supporters through their years of service and commitment, and we're excited to see Mike transition to a full-time teaching position in the Psychology program, one of many areas where Mike has found his passion and calling."
Please join Dr. Nord and the Cabinet in praying for Tom and Sue during their move to Salem and transition into this important executive leadership position at Corban.