Corban University
May 10, 2018
Why Business Administration, and Why Corban? Brianna's Journey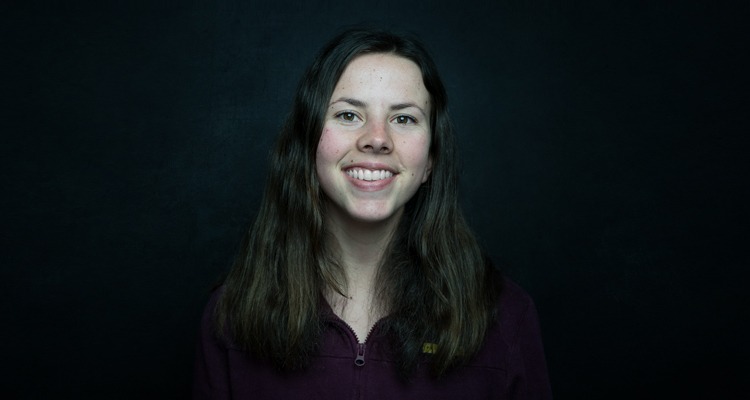 "It almost felt impulsive," Brianna Ashmore says. She'd been filling out her application to Corban University, and when she came across the drop-down menu that asked her to choose her major, she chose "business."
But while selecting "business" in a drop-down menu may have felt impulsive, Brianna's decision was ultimately rooted in the passions and goals that had been forming in her mind since she was 16.
Ever since traveling to Haiti for a medical mission trip in high school, Brianna knew she wanted to do something involving cross-cultural missions. It wasn't filling up little bags of amoxicillin and Vaseline that made her fall in love with missions; neither was it playing with children during her breaks. Rather, it was the opportunity to "actively work toward sharing the Gospel every day" that made Brianna realize, "I could see myself doing this for the rest of my life."
So how did she end up a business major? Why not intercultural studies or international relations?
"A lot of people study to be missionaries or pastors," Brianna reflected, "but there are other aspects of an organization that need experienced people." Even mission organizations need people to oversee finances and be effective managers, she thought. By studying business, Brianna could envision herself serving in the mission field in a unique, valuable way.
Choosing a major is one kind of journey; choosing a college is another.
Brianna's father had attended Corban University (then Western Baptist College), so it had come up early in the conversation when she began looking at schools. But Corban didn't initially pique her interest. Brianna dreamed of going to a school on the East Coast—somewhere big, with a nationally-recognized name.
She found a college-search website that allowed her to input criteria. The site would then match her with colleges that aligned with her priorities.
Brianna remembers choosing criteria like small class sizes, extracurricular clubs and intramural sports, and, of course, the perfect distance from home: "close enough to go home, far enough that I wouldn't go home all the time," she smiles. She also made sure to consider practical criteria like retention and graduation rates.
Corban University came up as her number one match. It met all of her criteria, including being just over 400 miles from Susanville, California. "But it wasn't what I wanted to see," Brianna says, "so I ignored it."
Brianna set Corban aside in her mind and continued looking into other colleges. She remembers how supportive both of her parents were as she went through the deciding process. When she expressed interest in checking out Gordon College in Massachusetts, her mother flew her there.
But the visit didn't go as planned. "I flew all the way to Massachusetts, and my visit day ended up being canceled because of a snowstorm!" Brianna walked around the frigid campus anyway, but it wasn't the same, and she couldn't help but feel the cancelation might be a sign she was supposed to go somewhere else.
While Corban still wasn't at the top of Brianna's list, she decided to include it in a trip she was making to the Pacific Northwest to visit schools—it couldn't hurt to check it out on the way. She had applied at the prompting of her father, and was surprised to receive a call two days later that she'd been accepted. "I didn't want to say no without having been there," she says.
At first, Brianna wasn't expecting to like Corban. But when she stepped on campus, "the students were friendlier than any other school I'd been to." That, and the chapel session she visited happened to be the last chapel before spring break, when students were being commissioned for spring break mission trips.
"That chapel highlighted the fact that Corban is passionate about sending students—as our mission says—to make a difference in the world for Jesus Christ." It was one thing to read about Corban's mission in the brochure. It was another to see it play out right in front of her.
Both Brianna and her mother were impressed by Corban—"This is my favorite school we've been to so far," her mother said.
So Brianna decided to say yes to her father's alma mater.
From the outside, Corban had looked like a fun, safe, friendly place to earn her degree. But it became much more than that when Brianna began her freshman year. It became a place for her to let go of the pressure she'd put on herself to look like a perfect Christian. "Coming to Corban, l learned the importance of actually being vulnerable," Brianna says. "That was not something I had thought was important before."
When she began to experience some depression her freshman year, Brianna realized that she could no longer operate with the mentality that she could do it on her own. "I had to learn to let the walls down and actually let people in on how I was feeling. I had to learn to be honest and let people bear my burdens with me."
At Corban, Brianna found a community that wanted to support her. "God has put a lot of really amazing people in my life to continually encourage me, even when I'm feeling broken, even when I'm at my worst. Their love for me is not dependent on what I do—they love me because I'm me, which has helped me learn a lot about how God loves us too."
Three years later, Brianna has grown in her understanding of God, herself, and her calling.
At one point, Brianna contemplated switching to psychology—she was fascinated by the way people think, what motivates them, what shapes them. But once again, a cross-cultural mission trip helped her discern which path to take.
In 2016, she spend 40 days in Quito, Ecuador, where she served with the mission organization Extreme Nazarene. During those 40 days, Brianna worked with a woman named Sarah Ross. Sarah was the Operations Officer in Quito, and she was using her business skills to build God's Kingdom in the mission field. "She was using her business management and administrative skills to run this organization, and in the process she was still involved in all the aspects of missions."
Brianna remembers thinking, "I want to do her job."
Next spring, Brianna will graduate with a degree in Business Administration, with a concentration in Leadership & Management. She's excited about the future, and she's passionate about helping change the stereotype that surrounds business. "People who aren't business majors often look at business people and think, 'They're driven by money,' 'They're just in meetings all the time,' 'They just want to be successful.'" But Brianna has learned through her business classes at Corban that business is about understanding people and meeting their needs.
"It's possible," says Brianna, "to have a biblical worldview and be a businessperson who wants to help other people."
Learn more about Corban University's business programs.