Corban University
Coronavirus F.A.Q.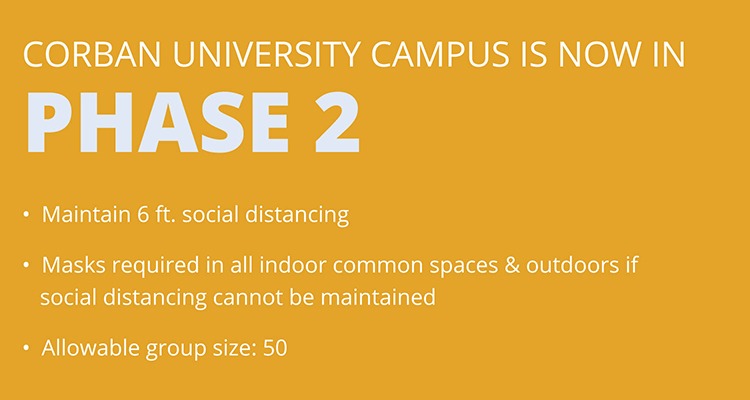 Last updated Monday, August 3, 2020. Updated sections are in bolded, italicized text.
Current Campus Guidelines and Status as of July 28, 2020
Campus is moving to PHASE 2. All open campus buildings and/or spaces are operating in this phase at this time.
Masks are required in all public/common areas indoors regardless of social distancing (SD).
Masks are also required outdoors when 6 ft of SD cannot be maintained.
Masks are now required in the CE Jeffers Center while exercising.
A phased return to campus for employees started in late June, with all staff scheduled to be back on campus by August 1. (Exceptions will apply to staff with extenuating circumstances related to COVID-19.) Learn more about Corban's Return to Campus Plan, including phases for reopening.
All students under Marion County Isolation/Quarantine (IQ) have completed their protocols without incident. Students who were housed in Aagard over the summer are being moved into their fall residence locations as we prepare to welcome the rest of campus next month.
Planning for Fall 2020 and Beyond
Corban University plans to welcome students back to campus in the fall for face-to-face classes. We know there are many unknowns at this time, but we believe careful and thorough planning can make the 2020-21 school year a great educational experience for our students.
In conjunction with the reopening of Oregon (by state and county approval), Corban University's COVID-19 Task Force is implementing a multi-phased, comprehensive plan for the reopening of University operations, which aims to:
maximize the health, safety, and wellbeing of all community members;
act in a mission-consistent, data-informed manner;
promote continuity of University services; and,
communicate with community members quickly and clearly.
Learn more about Corban's guiding philosophy toward COVID-19 prevention and response.
Corban's COVID Task Force is being led by Brandy Ragain, Corban's Student Health Coordinator. Under Brandy's leadership, the COVID-19 Task Force has identified a number of areas that they will be addressing before the opening of campus and start of classes this fall. These include:
Ensuring Corban has access to the appropriate COVID-19 testing capacity for the campus population.
Creating a plan to address any isolation/quarantine needs that may arise with students back on campus.
Reviewing cleaning protocols and increased cleaning needs as staff and then students return to campus.
Establishing processes to implement social distancing requirements as they exist at any given time. These processes include strategies to safely use classrooms, dining space, the library, student common spaces, recreational spaces, work space for employees, athletic venues, and event venues in compliance with government guidelines.
Continuing to invest in our remote education capabilities, to the extent this option is needed.
Evaluating and adding contact-tracing capabilities as needed in conjunction with local government.
Building relationships with local healthcare agencies to provide student medical care as needed. Learn about current plans to address student healthcare needs on campus.
This is not an exhaustive list and will evolve and change as new needs arise or additional direction is given by the relevant authorities. We are committed to the health and safety of the Corban community and will continue to prayerfully plan for a fall semester that allows students to experience everything they love about Corban to the fullest extent possible.
Additional Updates
Information for New Students and Parents
Admissions and other offices are open by appointment only, but Admissions is open for on-campus visits this summer! Learn more on our Campus Visit page. You may also take a virtual tour of our campus! High school seniors and transfer students for Fall 2020 can qualify for a $500 visit scholarship by participating in the virtual tour or an on-campus summer visit.
Corban is offering test-optional admission for Fall 2020: If you were unable to take a college entrance test (SAT/ACT), we are now offering a test-optional admission for Fall 2020. In lieu of the SAT/ACT, you may submit a PSAT score, admissions interview, essay, or academic reference instead. Please click here to begin any of these options.
You can request a virtual meeting with an admissions counselor or faculty member! Sign up here.
If your family has been affected financially by COVID-19, please contact your admissions counselor to request a Special Circumstances Form to see if you qualify for additional aid.
Warrior Welcome (new student orientation) is scheduled for August 21-23. Learn more about the Warrior Welcome schedule.
Athletics
On July 17, 2020, the Cascade Collegiate Conference (CCC) Council of Presidents voted to delay the start of the 2020 fall sports season, with hopes of beginning seasons in the winter/spring of 2021. More information on the decision is available HERE.
Some of our outdoor facilities have been approved to begin hosting events such as summer camps, operating with careful guidelines and restrictions.
Emergency Student Funds
We are sensitive to the fact that many Corban students are being affected by financial situations beyond your control, and that this may present an unexpected challenge when it comes to your educational expenses.
We have a limited pool of funds from the CARES act, which we will be disbursing to students. If COVID-19 has caused educational or other school-related expenses such as food, housing, transportation, child care, relocation, unexpected health care costs, etc., you might qualify to receive some of these funds.
If you would like to be considered as a recipient of these funds, please fill out the form below. We will do our best to process these quickly and let you know as soon as possible if you qualify for this emergency assistance. Please note that priority is being given to students who were enrolled at Corban during the Spring 2020 semester.
https://corbanuniversity.formstack.com/forms/emergency_student_funds
2020 Commencement
We are so proud of our 2020 graduates and were eagerly anticipating an October 17, 2020 commencement. However, due to current state guidelines and limitations on gathering sizes, we have had to cancel this event.
Instead, we would like to offer our 2020 graduates the opportunity to join us for our commencement ceremony on May 1, 2021. We would also be glad to mail out your diploma cover now, so please check your email for a link to confirm your mailing address.
We look forward to the day when we can gather and celebrate to the fullest, in the manner your hard work has earned and deserves.
Questions?
We're here to help! Direct your questions to the following individuals:
COVID-19 Planning – Brandy Ragain: bragain@corban.edu
Admissions Questions – admissions@corban.edu
Campus Events – schedule@corban.edu
Athletic Events – Jarett Thoren: jthoren@corban.edu
Residence Life – Nathan Geer: ngeer@corban.edu
Employee Concerns – Lori Bonham: lbonham@corban.edu
Faculty Concerns – Tom Cornman: tcornman@corban.edu
Facilities – Troy Croff: tcroff@corban.edu
Campus Safety – Mike Roth: mroth@corban.edu
International Travel –Janine Allen: jallen@corban.edu
Thank you for playing your part in keeping our campus healthy and safe!
Additional updates and information can be found at https://www.cdc.gov/coronavirus/2019-ncov/index.html