Corban Fund
Gifts to the Corban Fund support the College's operating budget, particularly in the area of student scholarships and classroom resources.
Gifts from alumni, parents and friends help Corban offer a comprehensive Christian education of the highest caliber. Donations to the Corban Fund promote our educating future global leaders with intellectual integrity, unshakable character and a commitment to service in Jesus Christ.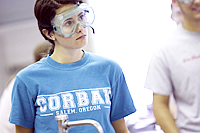 The Corban Fund provides a dependable stream of income to Corban's operating budget, enabling the University to carry out its mission year after year. Replacing these funds would require more than $4 ½ million in additional endowment.
To support the life-changing value of an undergraduate education rooted in Christ, the Corban Fund supports four fundamental priorities:
1. Attracting and educating a diverse, highly qualified student body
2. Recruiting and retaining the finest faculty
3. Housing students in a residential learning environment
4. Ensuring the technology and facilities that allow Corban to offer an exceptional college experience

Find out more about the Corban Fund on our FAQs page.
Will you help close the gap?
Give online
The Corban Fund supports the annual operating expenses of the University. Because of this fund, students pay about $1,000 less every year than the University spends to educate them.
Your gifts to the Corban Fund close this gap for students. You strengthen the University's financial future by establishing a solid base of donors and a consistent stream of resources. Increased giving by alumni, parents and friends attracts interest from foundations that interpret a broad base of support as a healthy indicator.