Woman to Woman Retreat
Date: February 9, 2013
Time: 8:30 a.m.–4:00 p.m.
Cost: $55.00
Location: Psalm Performing Arts Center, Corban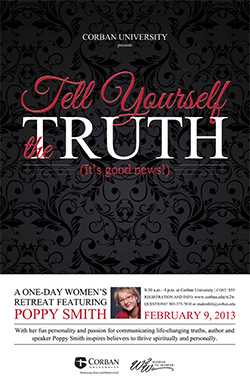 Theme: Tell Yourself the Truth (It's Good News!)
Speaker: Poppy Smith
View brochure online (includes workshop descriptions)
For more information call: 503-375-7010
Poppy Smith
Tell Yourself the Truth (It's Good News!)
Poppy Smith is a multi-published author and speaker. She is British, married to an American, and has lived in many countries. Poppy is warm, funny, and brings an international flair seasoned with real-life honesty as she illustrates biblical truths. A former Bible Study Fellowship teaching leader with a Masters in Spiritual Formation, Poppy speaks at retreats, conferences, and special events around the world. She challenges audiences and readers to make their lives count by looking at their choices, attitudes, and relationship with God. You can discover more at www.poppysmith.com
General Session 1: Tell Yourself the Truth!
What you think can either spur you on to a more fulfilling life in God's purposes, or stop you in your tracks. Your automatic thoughts, self-talk, and fears can intimidate, control, and ultimately determine what happens in your life. Learn six biblical keys to G.R.O.W.T.H. that will transform your thinking.
General Session 2: God, What Should I Do?
Life is full of crossroads, places of decision that affect where you're going and who you're becoming. How do you decide what to do in your career, relationships, family struggles and other life issues? Discover what God has to say through Jeremiah's relevant and powerful words: Stand, Look, Ask, Walk, and Rest (Jer. 6:16).
Schedule
Join us on Saturday, February 9th, for a refreshing day of Christian teaching, inspiration and fellowship. Registration includes two keynote presentations, three breakout sessions and lunch.
8 a.m.–8:40
Registration
8:40–9:15
Welcome and Worship
9:15–10:00
General Session with Poppy Smith
10:15–11:15

Breakout Sessions I

CHOOSE FROM:

Joy
Health Boosters
Hospitality—A Way of Life
Budget Management
Seasons of Life
Creativity—It's God-Given

11:30–12:30 p.m.
Lunch
12:30–1:30

Breakout Sessions II

CHOOSE FROM:

Grieving with Hope (A*)
Joy
Going Deep—Rooted in Love and Truth
Health Boosters
Seasons of Life
Discovering the Story. Reaching the Audience

1:45–2:45

Breakout Sessions III

CHOOSE FROM:

Grieving with Hope (B*)
Going Deep—Rooted in Love and Truth
Hospitality—A Way of Life
Budget Management
Creativity—It's God-Given
Discovering the Story—Reaching the Audience

3:00–4:00
General Session with Poppy Smith
* "Grieving with Hope" is a two-hour workshop. You must sign up for both sections